SHILPA GUPTA
STARSBLIND BLINDSTARS

Curated by Shaheen Merali
Assistant Curator Marc Wellmann

14 June 2008 to 2 Aug 2008

GALERIE VOLKER DIEHL and BODHIBERLIN are proud to present the first monograph exhibition in Germany of the eminent media artist, Shilpa Gupta.Both galleries have collaborated with the artist to allow both Berliners and an international audience further access to her particular use of regional and political geography in which she tackles issues that include notions of borders within and in-between media, religion and nations.
The work of Shilpa Gupta has been widely shown in the context of major group exhibitions, including the Media City Seoul Biennale in 2004, the Biennales of Sydney, Shanghai, Havana, and Liverpool in 2006, and Lyon in 2007. She has had a number of monograph shows in New York and in Bombay, where her oeuvre has been widely acclaimed and welcomed for its vehement reworking of the mixed media tradition. Her ensemble of works, begun after graduating in
1997 from the B.F.A. Sculpture Program at the prestigious Sir J. J. School of Fine Arts, Bombay, has included the use of interactive mediums fused with traditional sculptural and photographic elements. Performance has also played a major role in demonstrating her ability to contextualise difficult contemporary subjects and subjectivities, including personal space, and the abrupt global relationship to security and alterity: the internal experience of what Jacques Derrida aptly called "difference".
BlindStars StarsBlind is an apt title for an exhibition and a book by an artist who uses language in a fragmented form of translation. The works by Gupta talk about region, border, and territory to express themselves in their own kind of historical intention.
This exhibition highlights a spectrum of works that help to grasp those concerns that drive her aesthetic and media judgements in the age of global mediation and cultural translation. In an interview with Shaheen Merali, she described her concerns as follows: "Often artists like myself who are working in a so called 'activist' role become branded as activist artists". The role of activism is a driving force for many of her observations as she visually vocalizes her deeply felt concerns for the plight of those who remain speechless and are made silent through disempowering conditions.
The crossover between facilitation, production, performance, and gallery practice creates a rich mix that helps render the agonizing cosmopolis of cultural exchange and political discourse. Triggering such mechanisms and positions, Gupta allows us to evaluate the lived and perceived experiences of our realities by bringing together a number of contradictions in the fabric of contemporary life and our notions of freedom.Furthermore, Gupta's leanings towards a more democratising, even socialist, agenda in terms of ideology allows her to remain somewhat sceptical of the role
of the market place in the artistic realm. Her works question this contradictory position in both their construction and in their context.In creating a world as her ambition, she helps us to manage the necessary labour in looking at and measuring a strategic globalisation, which is based on disruption, rather than focussing on a crisis state where consumerism seems to be the only measurable form of change.
The exhibition BlindStars | StarsBlind prompted an identically titled publication which will be launched at the end of June 2008.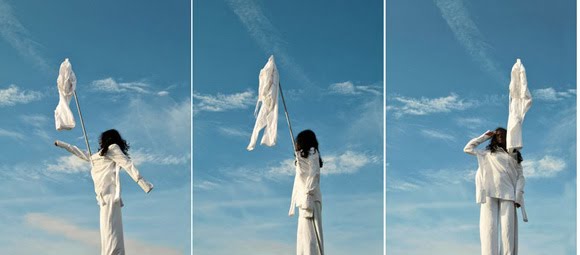 Image:
Shilpa Gupta
Half Widows, 2008
photo, Diasec
110x249cm

Courtesy of Galerie Volker Diehl
Galerie Volker Diehl
Lindenstrasse 35
D-10969 Berlin
As told to Reem Fekri
Gupta will be showing work at Art Dubai this year and is represented by Galleria Continua, Stand A28
"I studied sculpture at the Sir J J School of Art in Mumbai in 1997. In the past few years, there has been a new enthusiasm and interest in arts education both in terms of production and viewing of art. There have been efforts to look at art schools which have been stagnated due to state bureaucracy and also courses in art appreciation been set up… it is a beginning and there is a very long way to go…
 Both the conceptual and aesthetic are interlinked in my artistic practice work. The work stems from living in an urban environment in the migrant city of Mumbai which has been experiencing rapid change. The aesthetics of my work are connected to the media that it is produced in, which is part of our everyday lives, electronics, internet, mechanization of action and also thought!

I have grown up and lived in migrant city of Mumbai, which has always celebrated its cosmopolitan nature in a country that has chosen a constitution that is secular. However in the past decade there has been a wave of right wing propaganda that has been slowly seeping into the minds of the people via various forms of media. I'm interested in the reasons for this change and so also the structures our society has created – religion, race, gender or even nationality and then the impossibility of these divisions.
 For example, my recent work Tryst with Destiny, where a microphone, that is meant to be the disseminator of information, has in an act of distress and hysteria, stand solitary, singing to itself. As if there is no audience left and the dreams are too far away. It is the voice of the artist that comes out of the microphone, singing the iconic speech of Jawaharlal Nehru, the first President of India 'Tryst with Destiny' on the day of Indian Independence, August 14,  in year 1947. He outlines a dream of equality, secularism and a bribery free nation. The artist's tone, varies and sometimes seems as if singing from memory, sometimes as if reading, sometimes forgetting, sometimes in great passion, sometimes moaning, sometimes in deep doubt and sometimes in great hope. In the background, hangs the speech printed out from 'Modern History Sourcebook' the font size so small that is makes it hard to read. Its 60 years since independence, the work is about the sense of loss, or a senseof a future that was once set out and we're now looking back, and wondering how far we went.

There is no such favorite work that I have produced, as such. Works that have been memorable in terms of public response have been In Our Times, which was an interactive shadow based video projection. Blame as well, the latter two being interactive. I remember selling Blame in Mumbai local trains where there were some quite animated intense discussions about the work.

There is one work that had produced few years ago using several touch screens, that I was unsatisfied with. And this I find annoying as the costs of installing the work is so much that am not able to easily show it
 There seems to a definite interest in portraying the social and political circumstances in the East, as these are felt quite intensely. We live in very busy cities, where people come to from various different and often conflicting backgrounds and histories creating a very intense environment. I do not know if there is a total shift from the West to the East in the contemporary art market. There is a growing interest, which has moved from China to India to now Middle East which has been interlinked to the booming economics of these regions and not really evenly all over the East. What one hopes for that this is not just a passing fashion as that would also mean that it has to go out of fashion! At one hand the positive outcome is that there has been a new kind of energy and much needed support structures have been set up in a region but on the other hand too much commercialization has obviously been detrimental to the kind of art that is being produced."
Photo Credits:
Shilpa Gupta, Untitled, 2008, Photograph on canvas 100 x 250 cm
sourced @http://www.artdubai.ae/journal/2009/march/Shilpa_Gupta.html